In this in-depth eToro review we look into every facet of eToro and I will tell you, empirically, why only one type of person should invest in eToro…
Trust me!
You will want to make sure you are the right person, otherwise you might as well set your money on fire, join the Wallstreetbet gang and go big with the YOLO Stonks (Stonks=stocks for those that don't know!)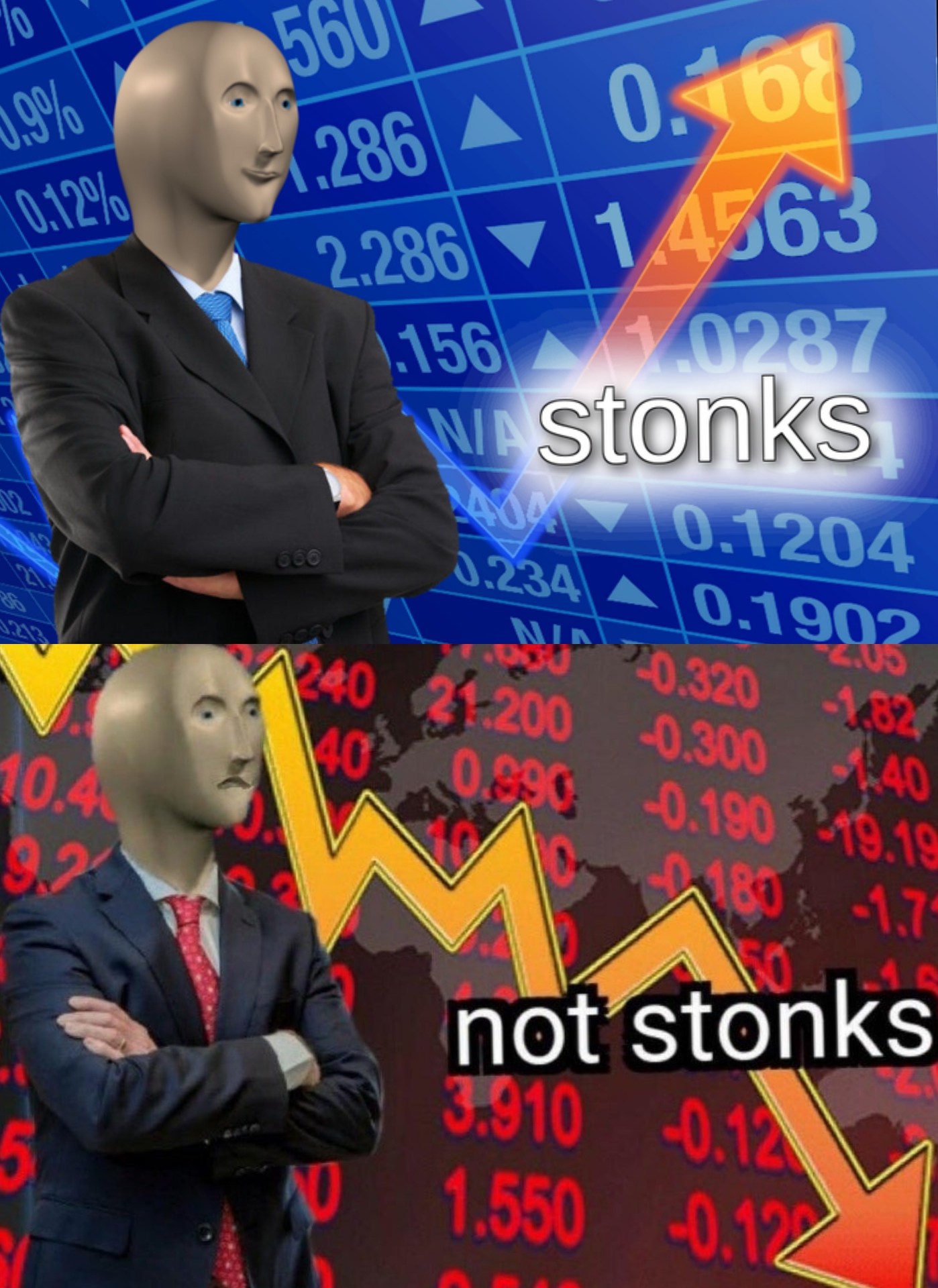 Quite Frankly eToro has one true strength which truly shines through
You see eToro have a super power that sets it apart and makes it ideal for beginner traders and those looking to diversify their portfolio through uncorrelated market returns (I.e. Returns don't just follow the general stock market trends the returns act independently)
So what it is this super power?
DISCLAIMER
I make a commission (at no extra cost to yourself) if you sign up through one of my links, so if you want to help an independent UK website, make sure you go through one of my links, it a big thank you without actually losing any money! (link Below)
67% of retail investor accounts lose money when trading CFDs with this provider. You should
consider whether you can afford to take the high risk of losing your money
WHAT IS ETORO? HOW DOES IT WORK?
To start this eToro review lets delve into what etoro is and and how it works so we are all on the same page!
The site primarily deals with trading in CFDs (contracts for Difference) forex, but also includes ETFs, real stocks and cryptocurrencies.
eToro is one of the most popular social trading sites in the UK. The site was established in 2007 as a Fintech start-up in Israel.
Now really important key term here, It is especially known for its social trading (eToro call it copy trading) feature. Through the copy trade feature user can get exposure to trading via reliable, experienced professional traders, Simply put you invest into people like you would purchase a stock! Which can be powerful if done right!
I give away a free strategy on how to use eToro's copy trade feature in my: Ultimate eToro Beginners Guide! Dirty Secrets to a huge ROI!
Following the guide will get you off to the best start on eToro and you'll be making that "WIFI bread"!
eToro is properly regulated by all major institutions, or is it?
A range of global consumers use eToro. In the UK, eToro is regulated by the Financial Conduct Authority (FCA). Likewise, in Australia, the site is regulated by an Australian Securities and Investment Commission (ASIC). All other global customers are served by an entity that is regulated by the Cyprus Securities and Exchange Commission (CySEC). Because it is regulated by UK and Australian authorities, eToro is considered fairly safe. This is because these financial regulators are global leaders in financial security. Furthermore, it is a well-known and widely used platform. The full regulators that eToro operates under are as follows:
eToro (Europe) Ltd. This body is active in Cyprus and is regulated by CySEC. this is short for the Cyprus Securities and Exchange Commission. CySEC regulates Toro (Europe) Ltd. under license type # 109/10, for servicing states that operate in the European Economic areas, and countries outside of it.
eToro (UK) Ltd. This is active in the United Kingdom, and is regulated by the FCA. This is the Financial Conduct Authority and is responsible for all users in England, Scotland, Wales and Northern Ireland.
eToro (AUS) Capital Pty Ltd. In Australia, this is how eToro is regulated. The Australian regulator is called ASIC, which is an acronym for the Australian Securities and Investments Commission.
eToro (USA) LLC. eToro is not widely available in America as CFD trading is not allowed. This means that eToro is only fully available for cryptocurrency trading (but does have some other instruments), which is varied, as it is covered by regulators for individual states rather than on a federal level.
So far this should tick all the standard broker boxes but Lets make sure we note something important here.
If you are from the USA, eToro is terrible choice of broker for you.

If you are from anywhere else eToro could be one of the best choices.
As primarily a CFD broker, eToro cannot provide most of its core offering to US clients and you cannot copy all the really excellent traders that appear in the rest of the world.
Now if you are from anywhere else in the world continue reading as eToro could be one of the best choices for you…
eToro: a brief background, company history and important protections
eToro has already survived the 2008 financial crisis (as it was released in 2007). This is promising, as it shows that eToro is a truely resilient platform. A longer track record normally indicates this, as it shows a broker has survived market turbulence and other issues which is good news for you!
eToro is a fintech start-up that is owned privately. Owners and investors span Israel, China and the US.
The CEO of eToro is Yoni Assia, who founded the website and while you cannot copy him he does actively trade on the website (A real CEO should use their own product, a tick in the box for me)
These are the current investors:
Anthemis Group, UK
BRM Capital, Israel
CommerzVentures GmbH, Germany (this is the venture capitalist arm of Commerzbank)
Cubit Investments, Israel
MoneyTime Ventures, USA
Ping An, China
Spark Capital, USA
eToro is not listed on any stock exchange, whilst also not providing regular financial information to the public. This makes it hard to measure eToro's financial performance and there is also no parent bank to eToro that could provide capital, which lends doubts to the stability of the company.
Despite this, being regulated by important authorities helps to keep eToro secure and safe.
If you are from the UK FSCS protects you from eToro insolvency up to £85,000,
likewise in Europe ICS (CySEC) offers coverage of up to 20,000 Euros.
But eToro actually did a huge favour for users and had additional private coverage up to 1 million GBP/EUR/AUD (depending on your location), this extra policy was taken out from Lloyds Bank.
This means that if eToro goes insolvent you are protected up to a million.
eToro Review Summary Sheet
| eToro Summary Review | | |
| --- | --- | --- |
| eToro Reveiw Chart | The Facts | Is it good is it bad? |
| Regulated by | UK, Cyprus, Australia, USA | Good |
| Fees | Low for long term bad for quick short term trades | Good if invested for longer times i.e. more than a day. Bad if you want to be a day trader. |
| Account inactivity charge | Yes (10 dollar a month after 1 year of no activity) | This is good, double the average. |
| Cost of withdrawal | $5 | Bad, although minor most other brokers have free withdrawals. |
| Minimum deposit | $200 | Good, lower than most other minimum requirements. |
| Account opening process | less than a day | Pretty standard process |
| Deposit with credit/debit card | Available | Standard |
| Depositing with electronic wallet | Available | Standard |
| Base currencies | 1 | Bad, although minor it would be nice to have other currencies and save on conversion fees! |
| Demo account? | Yes | Standard |
| Products | Stock, ETF, Forex, CFD, Crypto | Decent and growing selection of products that always growing, however you wont have access to complex financial products (which might be a good thing) |
| Is it worth Investing in? | Yes | eToro is great for beginners and people who are busy/ want trading exposure through copy trading! Bad for short term day traders. |
67% of retail investor accounts lose money when trading CFDs with this provider. You should
consider whether you can afford to take the high risk of losing your money
The Main Cons of eToro
eToro sucks for people wanting to day trade or use powerful tools and the standard eToro platform you don't have access to the same tools as metatrader4 (a proper trading platform) and can't integrate metatrader4 into eToro.
I have also seen that eToro can have issues with stock price volatility although not necessarily eToro's fault.
I first noticed issues with Beyond Meat, I made a fantastic short trade (shorting makes money when the stock goes down!) when it was overhyped in 2019 but shortly after I opened my short position no one else could open one as eToro blocked it.
Now why might eToro block trading? Its a scam you scream, big brother is against us!
Now it might be the case that eToro bans trading because new traders are drawn to hot stocks like moths to a flame.
But more often than not there is a more simple reason…
This might be due to eToro being a market maker and not being able to provide the match.
Remember for every buyer there must be a seller.
In simple terms, eToro couldn't find enough shares on the market to facilitate the short trades.
So eToro could take a risk of accepting the trade and trying to find a buyer later, which it might do by increasing its spread (you pay a higher price.) But risk management comes into play.
eToro isn't in the trading game, they are just a facilitator, allowing others like you and me to get in on the action!
People were calling Robinhood a scam because they halted buying, however, its likely with so many people using leverage to buys,they couldn't facilitate the trades without taking a huge risk on their side.
Actually with Robinhood they are claiming that they halted trading because their margin requirement for GameStop was increased by a few billion (a huge cost).
Addressing The Negative eToro Reviews
If you are serious about investing you will be looking at something like this eToro review and the eToro reviews on TrustPilot.
Now lets face it eToro probably doesn't want me showing you this…
but honesty is the best policy!
If you look at the eToro TrustPilot you will see a lot of hate for eToro and quite frankly it would put anyone off… but should it?
Now when you go on Trust Pilot and see something that is big, red and scary you should probably stay away right?
Well it depends…
If you remember earlier I mentioned that eToro acts as market maker and sometimes in high one sided volatility (big moves up or down) they struggle to accommodate as there may simply not be enough buyers or sellers (Lack of liquidity) or the stock exchanges themselves block trading, which can cause delays.
Well a lot of the hate eToro receives is from people trying to use eToro for fast trading.
I will say it again eToro is the best platform for beginners and copy trading, but not great for day trading!
Most of the people who are giving negative eToro reviews are those who didn't do their homework, otherwise they wouldn't be trying to be day traders on eToro.
Again, picking an appropriate broker is important.
Lets look at the most common bad review I see:
Now lets analyse the above negative review from my perspective.
I have found that during the pandemic they have not responded to my emails for weeks, before COVID-19 they were pretty good. I did find that their 24/7 chat was really good but you do have to wait your turn which took 20 minutes.
As far as the site being buggy I have only had this problem when trying to trade very volatile stocks and as you'll find out there is a reason why.
I have never had one of my positions forced close.
Now many people are upset with eToro closing positions since every time you purchase a stock from a broker you enter a contract and people assume that eToro is being shady!
So I did some investigating and uncovered some interesting things…
What I found initially was not a surprise, in the T&Cs which you sign when you join eToro they state:
9.1 is obvious if you set a Stop Loss they close once the price is reached (A Stop Loss is a price you set, where you want a trade to be closed)
9.2 If you use high of leverage and don't have enough money to cover the position in your account eToro may close your position (This is a possible reason for a position being closed)
9.3 Corporate events are occasions like share splits, or earning reports (unlikely with the complaint above)
9.4 This is where it gets interesting, what's Clause 19?
As with all contracts they are unnecessarily complex and often companies just don't want you to read them, luckily I did a fair bit of construction law so I know my way around a contract!
Which lead me to clause 19.2 listing reasons for closing an order.
Basically this list give eToro the right to close a trade under these circumstances, the one I am most interested in is exceptional events, so what are exceptional events?
And here we go as clear as day marked in Red is the reason for most of the reviews.
Likewise in blue it also acknowledges that Exceptional Event's can cause website delays.
Now is this fair is the question?
Being real, I think this it is fair.
Don't get me wrong, I hate losing money and I can see why people get annoyed at eToro, but remember eToro serves over 13 million users which is quite a large amount of people.
If you suddenly get 10 million plus people buying one stock (like GameStop) and millions more buying all the shares when normally you might have 100,000 buying and trading its a huge shock and its going to lead to issues.
I mean if this review goes viral and 100,000 people want to look at it all at once my website will crash!
Likewise, sometimes its not eToro that halts trading but the Stock Market itself in order to rebalance or for risk control.
So in all fairness, I don't think its unreasonable as how can eToro know that certain stocks are just going to pop!
Now are the bad eToro reviews an issue?
I don't think so, if you use eToro for what it meant for you will have an enjoyable experience.
So the lesson is use eToro for Copy Trading and longer holding periods and avoid day trading on eToro.
if you follow that advice you are highly unlikely to ever have these issues.
67% of retail investor accounts lose money when trading CFDs with this provider. You should
consider whether you can afford to take the high risk of losing your money
The Main pros of eToro
Good Range of stocks, ETFs, Forex, commodities that is always growing.
eToro uses NDD (Non Dealing Desk) practices which in simple terms means that they deal with a load of other banks and show you the best prices at any time, great for you!
Zero commission stocks if you buy the underlying asset which is great for longer term strategies.
The User Interface is the best in the entire industry, its so simple, clean and beautiful that a small child could jump on and buy you 100k of crypto before switching back to Minecraft (be careful its not candy crush!).
The Copy Trade feature is perhaps the best feature and is what really sets it apart. If you are clever you can make some serious money copying other people!
Good thing I wrote a guide:
Beginners Guide to trading on eToro!
Hopefully your starting to see, eToro is good for beginners and more specifically people looking to gain fantastic uncorrelated market returns through copy trading.
67% of retail investor accounts lose money when trading CFDs with this provider. You should
consider whether you can afford to take the high risk of losing your money
Opening an account on eToro
Hopefully, I've not scared you off as I still believe eToro should be part of everyone's portfolio but only used for what its good at!
Opening an account with eToro is a fast, easy process. It is fully digital, with a relatively low minimum deposit compared to other industry giants. This makes an account with eToro more accessible for first-time investors.
The process also takes less than a day to complete. There are no obvious downsides to the account opening process with eToro.
The process to opening an account is as follows.
Click the button here.
67% of retail investor accounts lose money when trading CFDs with this provider. You should
consider whether you can afford to take the high risk of losing your money
The first step is to register with one of the following options: email address, Facebook account, or Google+ account.
To access the live account option, you must also verify your identity and residency.
This is done by uploading a copy of your passport and a copy of a utility bill or a bank statement with your address on.
You then answer a few questions to complete your profile, on topics such as your existing trading knowledge.
The minimum deposit on eToro is $200 (Circa £160), although this differs for countries outside the UK.
Israeli users, the minimum deposit is significantly higher: $10,000.
Users in the USA and Australia have a minimum first-time deposit of just $50.
Minimum first-time deposit of $500 for residents of Russia.
For all users wishing to deposit or withdraw on eToro via bank transfer, there is a minimum value of $500.
eToro offers two types of account: live and demo.
A live account is real-time trading, using real money and real investments.
A demo account (also called a virtual account) allows the user to make the same moves and payments, but with virtual play money, which eliminates the risks and allows a trader to learn the basics before they invest with real cash.
I 100% suggest that you look at starting with a Demo account first and getting to grips with the platform, it costs you nothing after all!
67% of retail investor accounts lose money when trading CFDs with this provider. You should
consider whether you can afford to take the high risk of losing your money
The Fees to consider when trading on eToro
Most trading platforms have fees that occur when you trade; as they are a for-profit businesses!
If you want even more detail go to eToro Fees broken down, everything you need to know!
These trading fees are where the brokers juicy profit comes from. Although the financial information is not made public by eToro, these fees are likely to be the main source of revenue.
There are some basic types of trading fees that are useful to know when you are deciding which brokerage platform you are choosing to use.
Commissions:
A commission is a fee based on the traded volume or a flat fee per trade. Most commissions are based on the traded volume, and are calculated as a percentage of this.
Australian clients can only trade US stocks commission free, however. This free feature allows you to buy real stock, not any CFD product; you cannot use leverage for this process.
Spread:
A spread is the difference between the bid and ask price of an asset.
CFD companies like eToro incorporate their costs into this buy or sell price, and quote a final spread that is usually wider than the current market spread.
If you set the leverage to higher than one, you can trade stocks and ETFs as CFDs. This product has a low spread compared to other online competitors.
Stock and ETF commission of a $20,000 trade
eToro
IG
XTB
US stock
$0.0
$150.00
$100.0
UK stock
$0.0
$96.00
$100.0
German stock
$0.0
$110.00
$88.00
Financing Rates:
These are charged when you hold your leveraged position for more than a day. A leveraged position means that you have borrowed money from the broker to trade, and the financing rate (also called the overnight rate) is the interest charged on this money.
The eToro rate for leveraged positions is generally quite low, and is in the same range as its closest competitors.
eToro CFD fees for a $20,000 long position held for one week
eToro
Plus500
MarketsX
fee for S&P 500 index CFD
$24.00
$21.00
$26.00
fee for Europe 50 index CFD
$27.00
$13.00
$25.00
Conversion Fee:
A conversion fee is charged when your trade requires a currency conversion. This can also occur with other transactions, such as depositing and withdrawing money. eToro charges quite high rates on this front, although not the highest rates when compared to MarketsX.
I look into a lot more detail on my eToro Fees broken down, everything you need to know!
eToro forex benchmark fees of a $2,000 long position held for one week
eToro
Plus500
MarketsX
benchmark fee for EURUSD
$1.96
$1.79
$2.45
benchmark fee for GBPUSD
$1.62
$1.40
$2.50
benchmark fee for AUDUSD
$1.24
$1.26
$2.51
Non-trading Fees:
These are charges that are not directly related to trading. This can include deposit fees, withdrawal fees and charges for inactivity. eToro, for example, charges $10 every month after one year of inactivity, and has lowered the withdrawal fee to $5.
Although quite frankly I think it should be free, but $5 dollars isn't much just make sure you ar taking a sizeable chunk out.
If you put in $500 USD into eToro, you make 1% profit after fees and took out your $505 dollars you would lose all your gains from the withdrawal fees. So make sure you only take money out if its really needed.
eToro non-trading fees
eToro
Plus500
MarketsX
Fee for account
No Fee
No Fee
No fee
Fee for inactivity
$10/month after a year
$10/month after 3 months
$10/month after 3 months
Fee for Deposit
No Fee
No Fee
No Fee
Fee for withdrawal
$5
No Fee
No Fee
67% of retail investor accounts lose money when trading CFDs with this provider. You should
consider whether you can afford to take the high risk of losing your money
Depositing and Withdrawing your money on eToro (I save you some money here!)
eToro's deposit and withdrawal system have some obvious pros and cons.
The benefits are the availability of credit and debit card usage, as well as the ease of use of the whole system.
There is also no deposit fee, which is attractive to many investors (at least they give something free!)
The drawbacks are the $5 withdrawal fee and automated conversion to USD, which is the only available base currency for accounts.
This means that there is a conversion fee that is automatically applied when any deposits or withdrawals are made to or from a non-USD currency, this needs to be factored into your trading as it'll cost you!
As mentioned above, eToro only allows USD as the base currency for an account. This means that, no matter what currency you invest in, it will be converted by eToro to USD. For example, if you deposit GBP into your account, eToro will charge you 50 pips (percentage in point) for the honour, which might not always be cheaper.
Then, when you withdraw funds, the same occurs in reverse to revert your funds back into GBP.
A Sneaky Trick to save you some cash
One way to circumvent which might be slightly cheaper (you would need to check as depends on which currency you have!) is to use your credit card and deposit straight in USD, meaning that your bank is responsible for the conversion.
Another way of doing this is to open an account that offers multiple currencies at a digital bank such as Transferwise. These accounts offer cheap and easy international transfers, great exchange rates, and can be opened in minutes using the mobile phone applications.
I would note that you can run into some problems using Transferwise with eToro so always test with the minimum amount.
A work around I found on reddit which an Australian user tipped me off to was TT (telegraphic Transfer) transfer through ENBD (middle eastern bank), I have not tested this though.
Compared to other similar brokers eToro only using USD is poor.
Plus500 offers 10 base currencies, whilst MarketsX offers a total of 9. This removes the issue of conversion fees for many popular currencies, whether this be for trading or for withdrawing and depositing funds.
So why do eToro operate only in USD?
Honestly I am not 100% sure, my best guest would be that the US dollar is the most universally accepted currency and due to its rapid growth eToro has not had a chance to incorporate other currencies.
Also eToro makes a commission for converting your currencies so they why are they incentivised to change as long as they keep growing!
Bear in mind you need to consider the exchange rates when depositing or withdrawing. When you go to deposit home currency is converted to USD and likewise will need to be converted back when you withdraw, as currencies fluctuate this may mean you get less (or possibly more) of your home currency.
Options for Depositing on eToro
There are lots of options for depositing on eToro. These options are: bank transfer, debit or credit card, PayPal, Skrill, Neteller, China UnionPay, Klarna and Sofort Banking. This is fairly standard for the industry:
For the first deposit, eToro may require the use of bank transfer or debit/credit card. This is dependent on the country from which you are making the first deposit. After this, subsequent deposits can be made using any of the methods mentioned above.
Depending on the urgency of your deposit, different methods offer different benefits. A bank transfer takes a little longer (4-7 business days) but there is no maximum deposit.
Credit or Debit payments, or electric wallets are instant, but there are transaction limits.
The limit on credit or debit payments is $40,000, and most electronic wallets have a limit of $10,000. The notable exception to this is Klarna, which has a limit of $30,000. eToro also requires all deposited money to be from funding sources that are registered in your name, to prevent fraud.
Although eToro does not charge a flat deposit fee, it does charge for currency conversion. Given that there is only one base currency on eToro, this applies to many users. The charge is around 50 pip, which is a variable percentage depending on the currency. Here are the complete conversion fees:
Etoro's deposit & withdrawal currency conversion fees
USD
EUR
GBP
AUD
Using bank transfer
None
50 pip
50 pip
50 pip
Using other methods
none, your bank will charge for conversion, if your card is not in USD
250 pip
50 pip
100 pip
eToro also has a $5 withdrawal fee; most other CFD brokers do not charge any withdrawal fee. This makes eToro more expensive than its industry counterparts in this respect. Furthermore, eToro has a minimum withdrawal amount, which is $30.
The options for withdrawing money are the same as the options for depositing. Users can withdraw money using bank transfers, debit or credit cards, or electric wallets. The options are similar to other CFD brokers, although eToro is the only provider to charge a withdrawal fee. You can see this below:
Withdrawal fees and options
eToro
Plus500
MarketsX
Using Bank Transfer
Available
Available
Available
Using Credit/Debit card
Available
Available
Available
Using Electronic wallets
Available
Available
Available
Withdrawal cost
$5
None
None
How do you withdraw money from eToro?
The process for withdrawing funds from eToro is extremely simple. First, on the left-hand menu, click on the 'Withdraw Funds' tab. Then, in USD, enter the amount that you wish to withdraw. The next step is to fill in the form that eToro provides online, before clicking submit to complete the process.
Typically this is what you should expect on average, I use debt and it typically takes less than one working day for me.
| | |
| --- | --- |
| Payment Type | Days taken to receive funds |
| Bank Transfer | 4-7 days (working) |
| China Union Pay | 1-2 days (working) |
| Credit or Debit Card | 3-8 days (working) |
| Neteller | 1-2 days (working) |
| PayPal | 1-2 days (working) |
| Skrill Limited UK | 1-2 days (working) |
| WebMoney | 1-2 days (working) |
| Wire Transfer | 3-8 days (working) |
67% of retail investor accounts lose money when trading CFDs with this provider. You should
consider whether you can afford to take the high risk of losing your money
The eToro platform Interface
Ahh this is where I get excited, its simple, clean and easy to use.
It so user friendly and shows all of the costs in a clear and accessible way. It behaves exactly as any modern trading platform should, and to a high standard.
The platform also features a two-step login, which is far more secure for users. This way only you can access you money, just make sure you charge your phone or it becomes pain!
This feature is optional, so it is up to the user whether they wish to prioritise ease of use or security.
The only issue with eToro is a limit on customisability, for example in charts and workspaces. The platform is available for a traditional desktop internet interface, or as a mobile-friendly version.
eToro is available in many languages, making it globally accessible. The platform is available in these languages:
Arabic
Chinese (Simplified)
Chinese (Traditional)
Czech
Danish
Dutch
English
Finnish
French
German
Italian
Malaysian
Norwegian
Polish
Portuguese
Romanian
Russian
Spanish
Swedish
Vietnamese
Thai
This means that eToro is available to a global market, despite only using USD as a base currency.
Aesthetically, eToro is a well-designed platform that is easy on the eye. The design is simple but effective, using contrasting shades to make everything clear and obvious. This, combined with a well-structured layout where all functions are easy to find very quickly, means that the eToro platform has successfully struck the balance between functionality and ease of use and visual attractiveness. The only drawback is that the panels are all fixed. The only exception to this is the watchlist, which is easy to configure depending on users' interests and investments.
The search function on eToro continues the trend of high functionality and user-friendliness. This function is easy to use and predictive, meaning that if you type in any company or product name, you can view the results instantly. There is also the option to search using tickers, which are abbreviated symbols to represent stocks on the market.
Placing orders on eToro is self-explanatory. On eToro, there are several order types:
Limit order:
This type of order allows you to set a price at which you want to buy or sell any given asset. The set price is called the limit price. Once your asset reaches or passes the limit price that you have set, it will be bought or sold. There are two types of limit order. When buying, a limit order means that the asset will be bought at or below the specified price. When selling, a limit order means that the asset will be sold at or above the specified price that you have set.
Market Order:
This is the most basic order option, and is the default unless you specify otherwise. Your trade will be bought or sold at whatever the current best price is, and will be executed immediately.
Stop Order:
Once you have bought assets and you have an open position, you most likely want to secure your profits and minimize your losses, which can be done using stop orders.
In order to secure your profit, you will most likely use a take-profit order. An example of a take-profit order is the best way to understand this type of transaction. If you buy an asset at $400 and decide a $100 profit is optimal, you set the take-profit level to $500. Once the asset reaches this, your position is automatically closed and you receive your profit.
Another type of stop order is a stop-loss order, which is self-explanatory. If you buy the same $400 asset and decided you cannot lose more than $50 on it, you set the stop-loss order at $350. If the price ever decreases to this, your position is closed and you escape with minimal loss.
Stop Limit Order:
An asset can sometimes experience a huge jump in price that very quickly reverses. This huge price jump may trigger your limit order. So that this doesn't happen, a stop-limit order triggers a limit order once the stop price is reached. With a stop limit order, you have two prices. The stop price triggers closing your position. The limit price is the price below which you do not wish your position to be closed. With our earlier example, as if the $400 investment has a stop price of $350 and a limit price at $340. If the price drops below $350, the system starts selling units. If it then retreats to below $340, the system stops selling again.
 This is all controlled by the eToro order platform.
67% of retail investor accounts lose money when trading CFDs with this provider. You should
consider whether you can afford to take the high risk of losing your money
Alerts and Notifcations
Setting alerts for prices is easy, and notifications are available. The alert function on eToro tells you as soon as an asset reaches a price target, and like with many other interfaces you receive a notification when your order is fulfilled. On a computer, there is an icon update on the relevant section, or you can receive a browser notification. With the mobile format, eToro uses standard push notifications.
Portfolio and fee reports are a key component to any investment portfolio. They allow you to see how your portfolio is performing, and any fees you have paid. eToro gives you the option to decide how you see these reports, and you can choose a basic list of assets or a pie chart to see it in a more visual form.
It can be a struggle to find your fee report at first, which is one of eToro's negative features. Click on the 'Portfolio' tab, and find 'History'. Under the gear icon in the top right, you can find your account statement, which includes all of the relevant information.
The file itself is well structured, and allows you to see all of your cash movements, including fees and withdrawals. Fees are not added up, but listed individually per fee deduction.
Expert tip, you might need a good accountant when it comes to the end of the tax year, as you can carry some losses forward saving you tax the following year!
eToro Mobile Trading App
Like the website, the trading platform that is available for mobile use is well designed and easy to use for consumers. It has the same intuitive search function and two-step login that is native to the website, and is lacking only a FaceID or TouchID login feature. Like the website, it is available in 21 languages.
The mobile platform works in a similar way to the computer platform, and has been adapted to be more user-friendly on a touchscreen system. For example, accessing a new trade or value charts is as easy as swiping left or right from your portfolio.
Markets and products
At eToro, there is a wide range of products available to trade and invest in. These are CFDs, Forex, real stocks, ETFs and many of the major cryptocurrencies. Unlike other brokerage giants, eToro also offers social trading features, and the ability to copy veteran traders (called CopyTrader). If you yourself are an experienced trader, you may want to consider allowing people to copy your trades and join the Popular Investor Program in order to make extra money.
On eToro, all non-leveraged buying positions for equities, ETFs and cryptocurrencies are real assets. This means that when you buy or sell stocks, ETFs and cryptocurrencies with no leverage you have bought real underlying assets not the CFDs.
This is an unusual feature for a CFD trading broker; compared to other CFD platforms, the offering of 17 real trading markets is an extensive range. When compared to actual stockbrokers such as Saxo Bank (which offers 35 markets) or Interactive Brokers (which offers access to 80 markets) the range offered up by eToro pales in comparison. Despite this, eToro's range makes it attractive, as it has the option to trade outside of these traditional trading markets. Here is how eToro compares to its competitors in terms of offering real markets:
| | | | |
| --- | --- | --- | --- |
| | eToro | Plus500 | MarketsX |
| Available stock markets (numerical value) | 17 | None | None |
| Available ETFs (numerical value) | 145 | None | None |
The stock exchanges that are accessible via eToro are as follows:
Amsterdam
NYSE
NASDAQ
Euronext Brussels
Euronext Lisbon
Frankfurt
London
Paris
Madrid
Milan
Zurich
Oslo
Stockholm
Copenhagen
Helsinki
Hong Kong
Saudi Arabia
On these exchanges, you are only allowed to trade the larger, more popular stocks. For example, only 10% of the stocks available on NASDAQ are offered by eToro.
This can make a difference.
A great time to buy stocks and assets can often be at the beginning of their trading, when prices are historically lowest.
This can mean that profits are somewhat limited. One great example of this is Zoom, which has obviously grown in popularity and value with the onset of the coronavirus crisis and global quarantines. Despite this, Zoom Technologies was not added to eToro until March 30th, as part of a batch of 185 different stocks, meaning that many investors using just eToro missed the early investment period before prices began to increase dramatically.
All other positions on eToro are CFDs. A CFD is short for Contract for Difference; you are speculating on rising or falling prices without actually buying the asset and taking ownership. This can be used to trade a range of items and markets, including shares and forex.
These positions include:
leveraged buy positions and all sell positions of stocks, ETFs and cryptocurrencies
All positions of forex, commodities and indices
Like with traditional trading, CFD trading allows you to copy and recreate other peoples' investments (called Copy Trade or social trading) and investing in CFD portfolios that have been compiled by experts and veteran traders, which is called a CopyPortfolio.
Compared to its closest competitors, eToro offers fewer stock index CFDs, as well as fewer currency pairs and commodities. On the other hand, eToro offers a wider and more extensive range of ETF CFDs than other platforms, and a greater number of cryptocurrencies. Here is how eToro's closest competitors, Plus 500 and MarketsX, measure up:
| | | | |
| --- | --- | --- | --- |
| | eToro | Plus500 | MarketsX |
| Number of Currency pairs available | 47 | 70 | 55 |
| Number of Stock index CFDs available | 13 | 33 | 11 |
| Number of Stock CFDs available | 2,042 | 1,800 | 2,000 |
| Number of ETF CFDs available | 145 | 92 | 42 |
| Number of Commodity CFDs available | 14 | 22 | 17 |
| Number of Bond CFDs available | None | None | 4 |
| Number of Cryptocurrencies available | 16 | 14 | 5 |
eToro also allows you to change the leverage of a trade to lower the risk. This can however cause issues with forex and CFD trading, as the pre-set leverage levels are high. You can get caught out if you are trying to make quick trade!
There is clearly a wide range of cryptocurrencies available on eToro. These may not be the most appropriate investment as the prices can vary widely, and are not regulated by any centralised governing body. This means that investors will not benefit from investor protection. Despite this, as the use of cryptocurrencies becomes more and more pervasive, investing in them can present a lucrative opportunity. The following currencies are available on eToro:
Bitcoin
Bitcoin Cash
Ethereum
Ethereum Classic
Ripple
Litecoin
Cardano
IOTA
TRON
ZCASH
Binance coin
BNB
Dash
Stellar
EOS
NEO
Tezos
XRP
Technically, when investing in any cryptocurrency, you own the real coin. Unfortunetaly under FCA regulation CFD cytocurrencies are not allowed!
67% of retail investor accounts lose money when trading CFDs with this provider. You should
consider whether you can afford to take the high risk of losing your money
CopyTrader
One of the most innovative draws of eToro is its CopyTrader and CopyPortfolio functions. These are not present in other competitors, and is the standout feature of trading with eToro, particularly for novices to trading.
This feature allows users to scroll through other traders on eToro, and much like with Facebook, or Instagram, allow them to find out about their thoughts on investing and other comments. eToro also provides statistics on their monthly and annual performance, risk scores, and countless other pieces of data to allow users to make an educated and well-informed decision on whose investments they would like to mirror. The minimum amount to invest in this style is $200 (for one trade), and the maximum is $500,000. There is a limit on the number of traders that one investor can copy: 100 is the upper limit.
The main drawback to using CopyTrader is that you cannot partially close your position; it is all or nothing.
Its for this one feature that everyone should consider having eToro as part of their overall portfolio.
There are people who have averaged 30% plus for nearly 10 years, while you cannot be certain of past performance if you pick a diverse team of traders you can make some good uncorrelated market gains.
Read more in my Ultimate eToro Beginners Guide! Dirty Secrets to a huge ROI!
67% of retail investor accounts lose money when trading CFDs with this provider. You should
consider whether you can afford to take the high risk of losing your money
CopyPortfolio
CopyPortfolio shares many similar features with a traditional investment fund, but utilises CFDs instead. With CopyPortfolio, instead of following the investment of a singular trader, you now invest in an entire portfolio or theme that reflects eToro's top traders.
Investing in a them is far simpler than it sounds; it just means that your portfolio has a common thread. For example, you may invest in a portfolio of big banks, or in cryptocurrencies. These investments would then be weighted by current market capitalisation.
The other way that CopyPortfolio can be used is by investing in a mixed portfolio that combines multiple top traders to create the best portfolio available.
eToro clearly indicates the proportion of CFDs in these portfolios. You can investigate further into these portfolios by checking average performance and asset distribution, and reading the strategy written by the creators of the portfolios.
The themed portfolios are created by eToro algorithms or by external sources and partners. Despite the complexities, this is a great way to invest. eToro checks your suitability and financial knowledge to determine whether CopyPortfolio is the right investment for you, as the minimum investment is $5,000.
Research Tools
Data
The research capabilities of eToro are mixed. There are good technical analysis tools, with interactive charts and analyst recommendations, but little comprehensive data and a poor data flow in real time. The research tools are, however, user friendly, and offer trading ideas and suggestions, which are available in 21 languages.
Most of the information on eToro is recommendations, for popular stocks. This includes analyst consensus on whether investors should buy, hold or sell units, as well as average price target. There is also some data on sentiments held by hedge funds and insider traders. These features are not available for the majority of assets on eToro, and are confined to a limited number of popular stocks.
In terms of fundamental data, only some is available and is quite limited. It includes basic indicators and ratios such as P/E (Price/earning), EPS (earnings per Shares), dividend yield and beta (measure of risk). It also includes a basic profile of the company. For assets that aren't stocks, this information is not available.
News
You can sign up for a newsletter that gives you an insight into daily market analysis, as well as a useful list of market highlights.
On top of this, eToro has a 'News Feed' feature, but instead of showing any official news, it is more like a Facebook feed with a market theme, as analysts and eToro users are the main voices present.
There are hashtags and themes much like with any other social media, which definitely helps to promote the social trading aspect of eToro. The posts by analysts and users also allows novice traders to investigate the general sentiment on the website before they invest.
You can ask other people questions which can be really useful! Just ignore anyone who tells you to only buy bitcoin (or Gamestop) and remember don't just believe random people on the internet who give you advice, check it out for yourself.
Charts
eToro uses a charting tool called TradingView.
It allows you to measure up 70 different technical indicators. The tool automatically saves the indicators that you want to measure against, and charts are also automatically saved.
Overall the charts are modern and look good,
The one thing that bugs me is eToro does not show volume data which is very annoying as understanding the volume is an important aspect of trading as it can give you an indication of the amount of people trading the stock.
Customer Service
Like its research features, the customer service centre on eToro has its flaws, but also positive features.
For example, although there is a Live Chat function, this is not 24/7, is not accessible on weekends, and is quite often offline. There is also no phone support. When it is online however, the answers provided are relevant, and resposne are quick.
There is also an email system that is available, which is normal fast but COVID-19 has put a strain the resposne times
According to eToro, customer service assistance is available in all 21 languages that serve the website, making it accessible for global users.
I have, dealt with eToro customer service on several occasions and they are pretty decent, although as always with big firms they are restricted on what they can do.
Put this way I haven't screamed down the phone at eToro, but that's because theirs no real phone support…
One way eToro could be better to the community is by fully explain what is going on and why certain actions have been taken, surely if an action is taken against an account some sort of automatic email response could be generated stating why and how the issue can be resolved.
67% of retail investor accounts lose money when trading CFDs with this provider. You should
consider whether you can afford to take the high risk of losing your money
Educational Tools
eToro has the option to have a demo account. This feature allows users to practice making trades and investments using fake money in order to learn more about investing and speculation.
The demo account feature seems like a great hands-on educational tool without the real-life consequences of actually investing cash.
Other than this feature, there is very little educational content provided by eToro. There are a few tutorials on how to use the site, and some basic educational videos about investing and finance. There is nothing of much substance available on the website.
However the eToro academy is slowly becoming better!
The Safety Triggers
eToro is a massively well-known investment and trading platform. This means that it must be reliable and somewhat safe, or it would not be trusted by so many investors. Furthermore, the majority of eToro clients are members of top-tier financial authorities; eToro is regulated by the Cyprus Securities and Exchange Commission (CySEC), the UK Financial Conduct Authority (FCA) and the Australian Securities and Investment Commission (ASIC). This means it is held to a high standard of safety.
There are limitations to this though. eToro is not listed on the stock exchange, nor is the financial information pertaining to the company publicly available. This means that the company may be far more precariously financed than it would have users know, although this is not necessarily the case. eToro is also not a holder of a banking license.
To determine whether or not you are safe using eToro, consider how you and your money is protected if something goes wrong, and what the background of the broker is.
eToro operates three legal entities to protect consumers and serve customers based on their residency. This is important; the entity you belong to determines how well protected you and your investment are. Citizens of the UK receive the best protection through the FCA.
If eToro collapses, they are likely to be compensated, up to a maximum amount of £85,000. This is guaranteed by the Financial Services Compensation Scheme (FSCS).
Their Australian counterparts are less lucky; should eToro become insolvent, Australian investors are not entitled to any obligatory protection.
Other investors are all served by CySEC, with a maximum compensation amount of €20,000, which is set by the Cypriot Investors Compensation Fund. Refer to the table to see this information in a more visual way:
It is important to note that when investing in cryptocurrencies, there is no investor protection from any of the above authorities. This is because there is little regulation on cryptocurrencies (although this is growing).
eToro also provides negative balance protection for forex spot and CFD trading for European clients only. This means that you cannot lose more than your deposited money, and you cannot owe money to the broker.
67% of retail investor accounts lose money when trading CFDs with this provider. You should
consider whether you can afford to take the high risk of losing your money
Who can join?
Outside of Europe, accessing eToro for trading is limited. In the USA, investors cannot use eToro as it is not regulated by any US entities, and current regulation does not allow CFD brokers to be used by American citizens. Cryptocurrency trading only is available to US clients. It is unsure when CFD law will change in America, meaning that there is no update on when eToro will be available in the USA. Currently, citizens of the following countries cannot use eToro:
United States of America* (residents and citizens, including its incorporated and unincorporated territories)
Afghanistan
Albania
Bahamas
Barbados
Belarus
Bosnia and Herzegovina
Botswana
Brunei
Burundi
Cambodia
Canada
Chad
Congo Republic
Crimea Region
Cuba
Democratic Republic of the Congo
Ethiopia
Fiji
Ghana
Guinea
Guinea-Bissau
Guyana
Iran
Iraq
Jamaica
Japan
Laos
Libya
Mali
Montenegro
Myanmar
Namibia
Nicaragua
North Korea
North Macedonia
Pakistan
Palau
Mauritius
Mongolia
Samoa
Serbia
Somalia
Sri Lanka
Sudan
Syria
Trinidad and Tobago
Tunisia
Turkey
Uganda
Vanuatu
Yemen
Zimbabwe

*Except for crypto trading.
Final thoughts and secrets revealed
So I have tried to be fair throughout this review and if you want more detail on any section let me know its what I am here for!
Fingers crossed, you enjoyed the content and fancy helping a small UK Business out in which case if you do join eToro make sure you click one of my links!
Basically you should see, eToro is the best platform on the market for beginners and people looking for copy trading diversification.
If you are a professional trader, from the US or want to day trade then don't bother with eToro.
That's it from me, before you start to invest money on eToro you should read my Beginners Guide to trading on eToro.
If you have questions comment just get in touch!
All the best,
Your "personal eToro Whiz",
Joe Moricca
67% of retail investor accounts lose money when trading CFDs with this provider. You should
consider whether you can afford to take the high risk of losing your money
Thinking of Investing or Trading? Skip years of trial and error and just copy the best!
My name is Joseph Moricca and I run Velox Investments and I have been investing on eToro for over 5 years so I know it like the inside of my own home.
When I started trading I followed the gurus on Youtube and Facebook.
What a MISTAKE to make…
Trading is hard, you have to put in the time to learn it just like any skill!
But what if you could skip the learning and just get those juicy rock-solid results?
Just like the Gurus you could swim in liquid gold jacuzzies with lambos for each day of the week!
Well it still not that easy…
But with Copy Trading on eToro you can get a fantastic education in trading or just copy other people with rock solid performance.
Now this may not be for everyone, but I personally have paid for Michelin star dinners and fantastic holidays to the Algarve from my eToro account.
So use this website as a guide, ask questions and get started on eToro today!
eToro Disclaimer
eToro is a multi-asset platform which offers both investing in stocks and cryptoassets, as
well as trading CFDs.

Please note that CFDs are complex instruments and come with a high risk of losing
money rapidly due to leverage. 67% of retail investor accounts lose money when trading
CFDs with this provider. You should consider whether you understand how CFDs work,
and whether you can afford to take the high risk of losing your money.

Past performance is not an indication of future results.

Cryptoassets are volatile instruments which can fluctuate widely in a very short timeframe
and therefore are not appropriate for all investors. Other than via CFDs, trading
cryptoassets is unregulated and therefore is not supervised by any EU regulatory
framework.

eToro USA LLC does not offer CFDs and makes no representation and assumes no liability
as to the accuracy or completeness of the content of this publication, which has been
prepared by our partner utilizing publicly available non-entity specific information about
eToro.
Hi, my name's Joseph Moricca. I'm the Founder of Velox Investments! At 16 I learnt to count cards, at 17 I started day trading on various crypto exchanges and for the last 5 plus years I have been learning about Social Trading on eToro! I found that there wasn't a good source for people looking to get into "Copy Trading" so I made one! On this website I share my best tips and tricks.